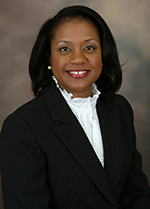 Joy Lampley-Fortson is an Assistant Chief Counsel with the U.S. Department of Homeland Security, Immigration & Customs Enforcement, Office of the Chief Counsel.
Prior to joining the Department of Homeland Security, Lampley-Fortson served as an Assistant United States Attorney at the U.S. Attorney's Office in the Northern District of Georgia (Atlanta) from 2001 until 2007. She is the Vice President of the Leadership Georgia Board of Trustees and the Chair of the State Bar of Georgia Local & Voluntary Bars Committee.
She serves on the Georgia Commission on Interpreters, the Georgia Court Appointed Special Advocates Board of Directors (Georgia CASA), the Supreme Court Justices' Commission on Professionalism, and the Judicial Council of Georgia's Access, Fairness, & Public Trust and Confidence Committee. She is a Past President of the Georgia Association of Black Women Attorneys (GABWA) and a graduate of Leadership Georgia and Leadership Atlanta.
Lampley-Fortson earned a Bachelor of Science degree in Public Relations from the University of Florida and a Juris Doctor degree from the University of Florida College Of Law. She and her husband reside in Fairburn.
Joy Lampley-Fortson was appointed to the GSFC Board of Commissioners in April 2015. Her term expires April 2021.