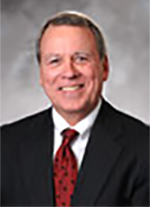 Don Howard is the president, chairman and chief executive officer of the Bank of North Georgia.
He serves as chairman of the board at North Fulton Hospital, member of the board of trustees at Georgia Southern University, secretary and treasurer of the North Fulton Community Improvement District, and member of the Reinhardt College Board of Trustees.
Howard earned a bachelor's degree from Georgia Southern University and is a graduate of the Georgia Banking School and the School of Banking of the South. He and his wife, Teri, live in Canton and have three children and three grandchildren.
Don Howard was appointed to the GSFC Board of Commissioners in July 2010 and was reappointed in April 2013. His current term expires March 2019.