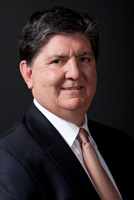 David Austin has chaired the Paulding County Commission since January 2009. He is vice chairman of the Northwest Georgia Regional Commission and the Cobb-Marietta Water Authority.
He serves on the board of the Association of County Commissioners of Georgia, ACCG-IRMA Board, Paulding County Chamber of Commerce, Paulding County Hospital Authority, Paulding County Airport Authority, and the Paulding County Industrial Building Authority.
Austin is a graduate of West Georgia College, where he earned a bachelor's degree in Marketing and Management. He and his wife, Jane, reside in Dallas and have one child and two grandchildren.
David Austin was appointed to the GSFC Board of Commissioners in March 2013. His term expires March 2019.