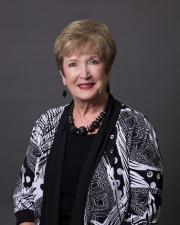 Patricia A. Burd retired after more than 40 years in education as a teacher, college administrator and school counselor.
She has served on numerous boards, including Greenville College and the Northeast Georgia History Center. Burd serves as a mentor in her local school system and recently received the Mary Lockwood Smith Medal for Education from the Daughters of the American Revolution.
She received her bachelor's degree from Greenville College in Illinois, a master's degree in education from Butler University, a doctorate degree from St. Louis University and an honorary doctorate from Brenau University.
Burd and her husband, John, have two children and seven grandchildren. They reside in Gainesville.
Patricia A. Burd was appointed to the GSFC Board of Commissioners in March 2005. She was reappointed May 2010 and again April 2016 and her term expires March 2022.