August 2016 Quarterly Newsletter
GAfutures is Here!
GAfutures.org, GSFC's new online college planning and preparation resource, launched in July. It is loaded with tools and information to help make the process of searching, applying and paying for college easier for students across Georgia.
GAfutures_tagStack_org_2c_300_0.jpg

GAfutures.org is up and running! Georgia's new online resource helps students of all ages explore, plan and find affordable ways to pay for college. It replaces GAcollege411, the state's former college preparatory website. GAfutures will provide a more user-friendly and responsive experience for students and families to learn about the different types of state and federal financial aid available, as well as additional resources to help in the college planning process.
GAfutures' homepage provides the latest information regarding GSFC's financial aid programs and educational services. GSFC-administered programs are highlighted under the HOPE & State Aid Programs tab. Students can access program applications, explore eligibility requirements, view award amounts, locate participating institutions and find other specific information for each program.
There is a national college search and scholarship search available to help students explore the many different types of schools as well as alternate ways to pay for their education. There is also an interactive map of all Georgia institutions that are eligible to participate in GSFC-administered programs.
STARS and SURFER users can access those systems by using their STARS or SURFER username and password through the Administrative Section in the bottom left corner of the GAfutures homepage.
GAfutures Students w Smiles.jpg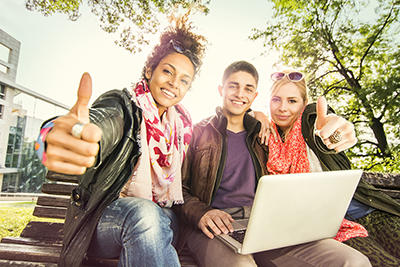 Student users can request their high school transcript or check their HOPE GPA with a My GAfutures account. They can sign in to GAfutures using their username and password from GAcollege411 then update their account profile, as necessary. If they cannot remember their username and password or did not have a GAcollege411 account, they should create a new GAfutures account.
Through their My GAfutures account, students can also apply to GSFC-administered financial aid programs as well as for admission to participating colleges.
Quick Guides are also available to provide step-by-step instructions for some of the functions our customers use most often. There are Quick Guides for administrators as well as students.
"At GSFC, we know how important it is to provide students and their families with the most accurate financial aid information at a time and format that works best for their schedules," stated Tricia Chastain, GSFC President. "GAfutures will play an integral part in supporting GSFC's mission to promote and increase access to education beyond high school for Georgians," added Chastain.
Moving On To Year Two of Move On When Ready
Thousands of students took advantage of the opportunity to earn college credits while still in high school through Move On When Ready – Georgia's new dual enrollment program.
In its first year, more than 27,500 high schoolers took advantage of the Move On When Ready (MOWR) program. MOWR allows students (9th – 12th grade) to attend a postsecondary institution to earn college credits while simultaneously working toward their high school diploma.
92247950_0.jpg
MOWR saw an increase of nearly 7,000 more students over the previous Accel and HOPE Grant Dual Enrollment programs combined. Thirty University System of Georgia (USG) institutions, 22 Technical College System of Georgia (TCSG) institutions and 21 private institutions participated in MOWR last year.
MOWR students were awarded over $48 million in FY 2016. In most cases, awards covered all required standard tuition, mandatory fees and required book expenses. Specific MOWR award amounts vary based on the postsecondary institution and the number of credit hours in which a student is enrolled. Complete MOWR award amounts are available on GAfutures.
MOWR is expected to grow significantly in its second year as more students and their families learn about the program and the benefits of dual enrollment. In an effort to support the program's expansion and promote the need for a more educated Georgia, Governor Nathan Deal and the General Assembly approved additional funding for FY 2017.
To learn more about MOWR, visit GAfutures.
What People are Saying about MOWR
The popularity of Move On When Ready is growing and both high school and postsecondary administrators are promoting the benefits of the program.
"It's a great opportunity for children who are ready, to take on that responsibility. It gives them a head start, and best of all they have two years of academic instruction, and it doesn't cost their parents a dime."
- Dougherty County Superintendent Dr. David Mosely to WALB
"Being in Southwest Georgia you're kind of limited as to your resources and getting the kids in the dual enrollment program will cover our Advanced Placement (AP) component. It will also give students who wouldn't have an opportunity to take college courses to experience it."
- Aletha Armour, Terrell County High School Instructional Coach, to Atlanta Daily World
"What we're seeing is definitely more and more interest, not only from individual students, but also from high schools and even school systems in working with us to provide opportunities to these students to do college level work and do it early…It was just five years ago that we had about 25 of these students, and we expect this fall that we'll probably have well over 200 of these students enrolled in our university, possibly more."
- John McElveen, Columbus State University's associate vice president for enrollment management, in an email to the Ledger-Enquirer
REACH Georgia Continues to Grow
Realizing Educational Achievement Can Happen (REACH) Georgia had another successful year that included adding new school systems and raising over half a million dollars.
REACHlogo_banner_green_blue.gif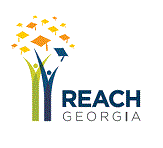 FY 2016 was a banner year for the REACH Georgia program and the 2016-2017 academic school year looks to be even better with the addition of 28 new school systems and the first class of Scholars set to graduate in the spring.
"We're pleased with the growth of REACH over the past four years," said Brad Bryant, Vice President of REACH. "The program started small with five school systems and 35 Scholars. With these additional school systems, REACH will have a total of 69 school systems and over 700 Scholars participating."
REACH's first cohort of seventeen Scholars are set to be a part of the Class of 2017. Each Scholar will be eligible for a $10,000 scholarship ($2,500 a year for up to four years) to use towards the cost of attendance at a HOPE eligible public or private postsecondary institution. A new class of Scholars will make a public declaration of starting that same journey on REACH's statewide Signing Day September 20, 2016.
"It's always great," said Bryant, "to see Scholars take a positive step towards their college education."
The REACH Georgia Foundation took a positive step in its first year as well, raising $650,000 to support the program. Synovus, a wealth management organization, has been hired to invest the funds and the Foundation has declared an FY 2017 goal of $850,000.
Gov Deal and REACH 400px.jpg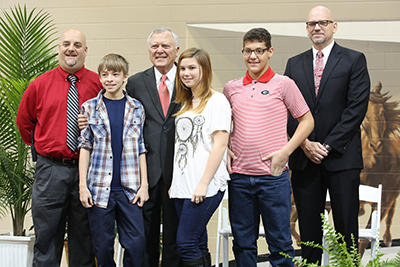 "With a shared commitment from our communities, our school systems and the state," said Governor Nathan Deal, "we can help children reach their full potential and earn a postsecondary credential."
That goal will now extend to a new pilot program aimed at providing REACH program funding and support for foster children in existing REACH school systems.
"By 2020, our goal is to be in all 180 Georgia school districts and supporting 2,800 REACH Scholars in graduating from high school and succeeding in college," said GSFC President Tricia Chastain. "We appreciate Governor Deal and the General Assembly's continued support of the REACH program and look forward to launching the new pilot program for foster youth in the coming school year."