Leadership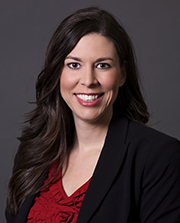 Acting upon a recommendation by Governor Brian P. Kemp, the Georgia Student Finance Commission Board of Commissioners elected Caylee Noggle as the agency's President on April 8, 2019. Caylee had served as the agency's interim President since October 2017, prior to which she had served as the agency's Chief Operating and Chief Financial Officer. She has more than 15 years of state government and higher education finance experience.
During her career in Georgia, Caylee has worked in numerous roles, including as the Director of the Physical and Economic Development division in the Governor's Office of Planning and Budget, where she had budget and policy oversight for more than 20 state agencies. Caylee also served as the Coordinator of First Year and Academic Support Programs at the University of West Georgia and in various roles at GSFC since she joined the agency in 2005.
Prior to coming to Georgia, Caylee worked as a financial aid officer at the University of Arkansas at Little Rock, where she earned a master's degree in College Student Affairs. She also holds a bachelor's degree from Millikin University in Decatur, Illinois.
Caylee serves as the Treasurer of the Board of Directors for the Education Finance Council and on the advisory board for Outward Bound Atlanta, an extension of the North Carolina Outward Bound School. She has also served on numerous committees and in leadership capacities for several other industry associations, including the National Association of Student Personnel Administrators (NASPA), the former National Council of Higher Education Loan Programs (now NCHER), and the Georgia Association of Student Financial Aid Administrators (GASFAA). She is a previous recipient of GASFAA's Outstanding Service to Students award and NASPA's Graduate and Professional Student award.
Caylee and her husband, Tom, live in Atlanta with their son and are members of Oak Grove United Methodist Church.