The Legacy of HOPE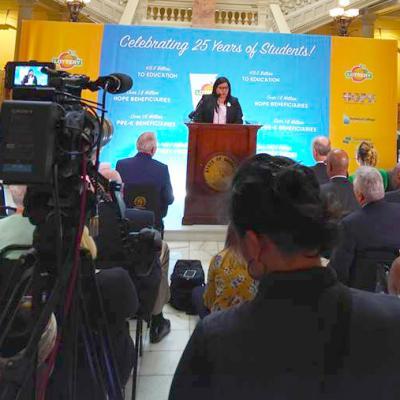 ATLANTA – The Georgia Student Finance Commission recently celebrated the 25th anniversary of the HOPE Program during a ceremony at the Georgia State Capitol. GSFC Interim President Caylee Noggle joined Governor Nathan Deal, Georgia Lottery President and CEO Gretchen Corbin, Georgia Department of Early Care and Learning Commissioner Amy Jacobs, elected officials and other special guests to commemorate the occasion.
"We are very proud that Georgia's HOPE program remains one of the country's largest and most generous scholarship programs," Noggle said. "Supported by the Georgia Lottery Corporation, HOPE has been a critical component of Georgia's workforce development efforts by providing students with over $10 billion dollars in awards."
Launched by then-Gov. Zell Miller in 1993, the lottery has contributed more than $19.5 billion to the state for education. More than 1.8 million students have received lottery-funded HOPE scholarships and grants.
"Behind every one of the millions of HOPE and Pre-K beneficiaries is a life made better through greater opportunity," said Gov. Deal, "a mind made stronger through sound education and a lifetime of dividends that result from our continued investment in Georgia's children."
The ceremony also featured remarks from recipients of the HOPE Program. Lindsay McMichael participated in Georgia's Pre-K Program as a 4-year old in Columbus. She then earned the Zell Miller Scholarship and utilized it to attend the University of Georgia. Josefina Bustos is using the HOPE Career Grant at Gwinnett Technical College to pursue a nursing degree. Both touted the benefits and positive impact of being beneficiaries of these lottery-supported programs.
"As we celebrate our success over the past 25 years," Noggle added, "we also look forward with confidence knowing that HOPE will be available for future generations thanks to the leadership of Gov. Deal, the support of the General Assembly, and a strong footing from the Georgia Lottery Corp."