November 2016 Quarterly Newsletter
GSFC Welcomes New President
Shawn Ryan brings a wealth of experience in government, with extensive knowledge of communications and public affairs, to the role of president.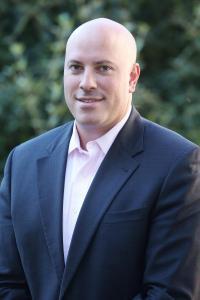 On Tuesday, October 18, the Georgia Student Finance Commission (GSFC) Board of Commissioners was pleased to confirm Shawn Ryan as the agency's new President, effective November 1, 2016. Mr. Ryan will also serve as President of the Georgia Student Finance Authority (GSFA) and the Georgia Higher Education Assistance Corporation (GHEAC). Governor Nathan Deal nominated Ryan to replace Tricia Chastain, who was appointed Executive Vice Chancellor for Administration at the University System of Georgia.
President Ryan formerly served as the director of Georgia's Integrated Eligibility System, the largest information technology project in state history. He was previously the director of communications for the Georgia Department of Public Health. Mr. Ryan also has more than a decade of experience in Washington, D.C., as he worked in the U.S. Senate and the U.S. House of Representatives, as well as for the Mortgage Bankers Association and the Heritage Foundation.
"I am excited to begin my tenure with the Georgia Student Finance Commission, an organization with a well-established reputation for excellence," Ryan said. "Completing one's postsecondary education is a key step on the path to success and a lifetime of financial stability. Through scholarship programs and grants, the 529 college savings plan and increased financial literacy, GSFC will continue to stand ready to assist students and their families by making college more affordable and by putting a diploma within reach of thousands of Georgians each year."
In addition to President Ryan's arrival, GSFC welcomes Jennifer Herring to the role of Senior Vice President, College Affordability Initiatives. Mrs. Herring is responsible for the REACH Program, the Path2College 529 Plan, as well as leading the further development and roll out of GSFC's financial literacy initiative. Jennifer brings over 20 years of experience in the banking industry with a wealth of knowledge about sales and management. She has held several leadership roles with her local chamber of commerce, numerous volunteer organizations and was a member of the Leadership Georgia Class of 2014.
Lastly, Dana Russell, Executive Vice President and Chief Financial Officer, retired from state government after more than 30 years in October. Dana's great leadership, strong work ethic and wonderful personality played a critical role in GSFC's success over the past 10+ years. He dedicated the better part of his life to serving our state—and Georgia is better for it. Caylee Noggle, Executive Vice President and Chief Operating Officer, has assumed responsibility for GSFC's loan operations and accounting functions.
FAFSA Completion Initiative Ramps Up
GSFC is working to raise FAFSA completion rates in Georgia and encourage students to continue their education beyond high school.
For the past eight years, the Georgia Student Finance Commission (GSFC) has sponsored the College Goal Georgia FAFSA Completion (CGG) initiative. CGG events are held across the state and bring financial aid professionals and other volunteers together to help college-bound students and their families complete the Free Application for Federal Student Aid (FAFSA). Simply by completing the FAFSA, students eliminate one major barrier to postsecondary education: applying for financial aid.
According to the National College Access Network (NCAN), each year more than $2 billion of financial aid is left unclaimed because students do not complete the FAFSA. Many of these students are not even aware financial aid is available. Nationally, only 45 percent of high school seniors complete a FAFSA by their high school graduation. The benefits for those that complete the FAFSA can be life changing.
90% of high school graduates who complete the FAFSA enroll in college.
92% of students from low-income households will receive grants.
Students that complete the FAFSA have an 85% chance of receiving some kind of financial aid.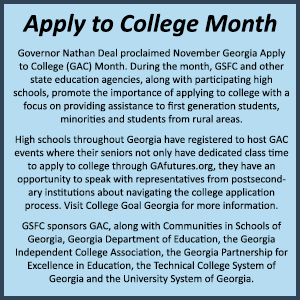 This year, in a more concerted effort to raise FAFSA completion in Georgia, GSFC is targeting counties that have low-performing FAFSA completion rates. GSFC is partnering with selected schools in these areas to build awareness and increase the number of FAFSAs completed through CGG events. In addition, volunteer schools and community-based organizations across the state are hosting CGG events that are free and open to the public.
With the FAFSA being available earlier this year (October 1, 2016 instead of January 1, 2017) and the ability for families to use earlier income and tax information, CGG events kicked off in October and will run through April 2017. GSFC is encouraging high schools, postsecondary institutions and community-based organizations to volunteer to host a CGG event so more students have the help they need when it comes to completing their FAFSA.
Visit College Goal Georgia for more information about registering to host an event, volunteer for an event or find upcoming event locations.
REACH Georgia Signing Day 2016
The Realizing Educational Achievement Can Happen (REACH) Georgia program welcomed new school districts and new Scholars at this year's REACH Georgia Signing Day events.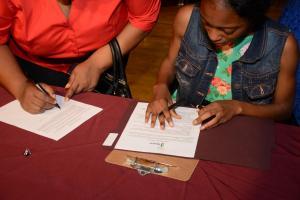 REACH Georgia Statewide Signing Day events 2016 took place in late September and early October as 353 Georgia eighth graders committed to good behavior and attendance throughout middle and high school, meeting with a volunteer mentor, and maintaining a certain grade point average through high school graduation.
When Scholars graduate from high school, they will be eligible to receive up to a $10,000 scholarship — $2,500 each year for up to four years — to be used at a Georgia HOPE-eligible two- or four-year college.
As part of Signing Day, REACH also launched a pilot program in partnership with the Division of Family and Children Services (DFCS) to bring the social, academic and financial support of the REACH program to 30 foster youth students from existing REACH school districts.
What People are Saying about REACH Georgia Signing Day 2016
During many of the REACH Georgia Signing Day events, administrators, parents and the Scholars themselves praised the program and reflected on its impact.
"We all know that money is an issue when students go off to college or want to go to college. This is a sure way that they can go off to college and become the productive citizens that we need them to be in our society." – Appling Middle School Principal Christopher Ridley to WMAZ
"It means a lot because for some reason I've always been looked down on. Now it feels good to know people are proud of me. The mentor, it helps out a lot because I have people behind me and people to support me." –Valdosta City School District REACH Scholar Kyson Hill to WALB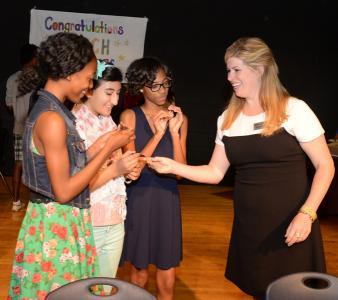 "It means everything in the world. It's hope for my future. A light in the dark." – Muscogee County School District REACH Scholar Alexsandra Casanova-Chavez to the Ledger-Enquirer
"This program can change the lives of these students." – Early County School Superintendent Bronwyn Ragan-Martin to the Early County News
"This is a very happy, emotional day for everyone. These students will be the first in their immediate family to attend college and earn scholarships that would allow them to graduate debt-free. As an educator, I couldn't be more proud of these students for pushing themselves to work harder, achieve their potential, and reach their goals for a successful future." - Fulton County Schools Superintendent Jeff Rose to the Sandy Springs Patch
"It's hope for the uncertainty we have financially because college is so expensive. To have something to begin with before starting college or high school is amazing and it helps us not be stressed out." – Rosa Vasquez, mother of Dalton Public School District REACH Scholar Andrea Acosta Vasquez, to the Dalton Daily Citizen
"It's a proud day for all of us…This is not a handout-type thing. It's a partnership between the state, communities and colleges. This is something that's pretty unprecedented in this state for everyone to come together like this." - Barrow County Superintendent Chris McMichael to the Barrow News Journal
"People are going to be watching you. And you're going to be expected to live not only up to the obligations of the contract that you will sign, you're going to be expected to go over and above. … And I have every reason to expect you will." – Governor Nathan Deal addressing Bibb County Scholars and to the Telegraph