May 2017 Quarterly Newsletter
GAfutures: New features and functions
GSFC continues to enhance GAfutures.org to better serve our customers. Over the past few months, there have been several new features and functions implemented.
FAFSA Completion Information
Callout box-01_0.png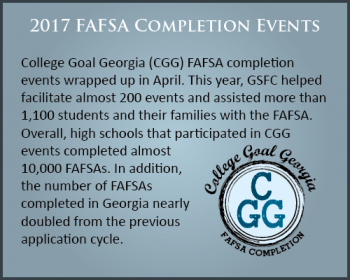 Increasing completion of the Free Application for Federal Student Aid (FAFSA) is a key initiative in Georgia and nationwide. GSFC has partnered with high schools, postsecondary institutions and community organizations across the state to actively promote the importance of FAFSA completion.
To further assist these efforts, GAfutures now features more comprehensive and easily accessible FAFSA completion information for high schools and the public. High schools specifically can use this information to assist their students in completing the FAFSA and monitor their progress.
Highlights of the enhanced FAFSA information include:
Easier access to FAFSA completion data including year over year completion comparisons.
Two FAFSA Data Views

FSA (Federal Student Aid) Data Only – FAFSA completion information whether or not the high school has submitted transcripts to GSFC.

FAFSA Completion Screen w GAfutures.jpg

FSA & Transcript Data – FAFSA data corresponding to student transcripts received by GSFC from each high school.

User-friendly interface with completion charts and lists of schools with high FAFSA completion statewide.
High school counselors can view student level data in STARS, including the reason a submitted FAFSA is not complete (e.g., missing student signature).
View My Transcript
High school students requesting a transcript be sent to a participating college can now view their unofficial transcript on GAfutures. In order for this feature to be available through a student's My GAfutures account, the high school must have uploaded the student's transcript.
Editable College Search Database
Postsecondary Institution Administrators can grant permissions for their Institution Users to update school information in the GAfutures College Search database. Users can access the editable information through the GAfutures Admin Center. Contact information, admissions deadlines, cost of attendance and other information can be updated to ensure your institution's profile is accurate.
Scholarship and Postsecondary Refresh
The GAfutures scholarship search and postsecondary institution database has been updated with the most current version of information available.
College Money Matters
Financial Literacy 395 by 200.png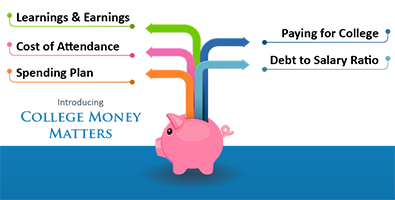 In honor of National Financial Literacy month this past April, GSFC introduced its new financial literacy section on GAfutures. College Money Matters focuses on helping future, current and former college students be better equipped to make smart financial choices.
Starting from choosing a major that will support a desired lifestyle, to choosing a college that fits a student's financial situation, to the process of paying and applying to colleges, to knowing how to repay any money borrowed, College Money Matters is filled with resources to help student's get financially fit before, during and after college.
REACH Class of 2017: They are a BIG Deal!
Five years after the Governor introduced the REACH Georgia program, the first cohort of REACH Scholars will be among those graduating from high school this spring.
REACH-Day-at-Capital---Graduating-Seniors-with-Sandra-Deal-5-8-17.jpg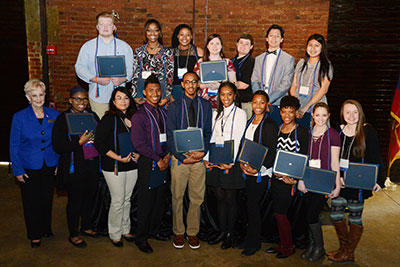 In February 2012, a small group of middle school students from Cartersville City Schools, Dodge, Rabun and Douglas county school systems became the first Scholars of the REACH Georgia program pilot.
Launched by Governor Nathan Deal in an effort to raise graduation rates while providing academic and social support to low-income students, REACH became the state's first needs-based mentorship and college scholarship program.
This May, the 17 seniors from those first four school systems will graduate with a cumulative group GPA of 3.65, each having earned a $10,000 scholarship.
"The significance of this graduating Scholar class is that they are the first to experience the many benefits of REACH. And, hopefully, as a result, they have a stronger foundation that will help them be even more successful," said GSFC's Jennifer Herring, Senior Vice President for College Affordability Initiatives. "Many will be the first in their families to go to college."
The program was launched as a key component of the state's Complete College Georgia Initiative. AT&T initially donated $250,000 and other corporate partners have followed suit, including Chic-Fil-A and Georgia Power.
"In the position I have with Georgia Power, I have the opportunity to work with many nonprofits and education groups. By far, REACH is making a significant impact and difference in our state," said Georgia Power's Anne Kaiser, chairman of the REACH Foundation's Board of Directors. "REACH is an exemplary education program because in addition to funding support, it creates a structure with mentors, academic coaches, coordinators and community leaders to ensure each child and family succeeds."
Danisha Walker, a graduating REACH Scholar from Dodge County, feels she has benefited greatly from the mentoring component of the program. Danisha's mentor has had a positive impact on her life.
GA Trend Callout-01_0.png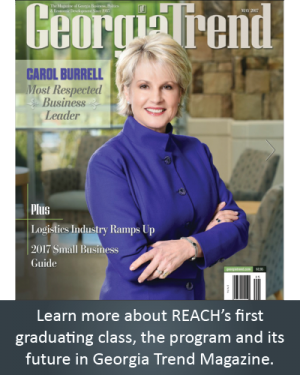 "We talked about my career goals and she helped me apply to colleges," said Walker about her weekly meetings with her REACH mentor. "She's really been there for me.
"My parents never got a (college) education because of the cost. It feels pretty good knowing that my first four years of college are covered."
Over 60 colleges around the state have agreed to match or double match the $2,500 per year scholarship to support students wishing to attend their institution. Eighty-eight percent of this year's graduating REACH Scholars have also qualified for the HOPE Scholarship and all plan to pursue a postsecondary degree.
"The success of this first graduating class will be the benchmark by which we measure the success of future cohorts," Herring said. "But we are not done yet. The next phase of being a REACH Scholar is obtaining and achieving postsecondary success. I'm excited to see the success these students will have in college and beyond."
In Their Own Words: REACH Scholars and Community Champions
Members of REACH's first graduating class and others involved in the program's success, share their thoughts on how REACH is changing lives.
"REACH has motivated me to work hard, both in school and outside of school. It's increased my confidence level and given me many rewarding opportunities." - Malcolm Cooley II, Cartersville High School, Class of 2017

"The best part of being involved in the REACH Program is knowing we are making a difference in our youth, thus making our community stronger and helping to provide opportunities in young lives that they may not have realized without REACH." –Nessa L. Williams, REACH Community Champion

"REACH encourages kids to do what they need to do and focus on their dreams. It is possible to do the things you want to do if you set out to do them." – Robert Bush, Dodge County High School, Class of 2017

"The success of the first graduating class means we have a model that works and is something that can be sustained long term by the local communities. The success of the scholars can be attributed to not only their hard work and dedication to the program but to support given by the schools and communities." –Jennifer Herring, GSFC Senior Vice President for College Affordability Initiatives

"REACH motivates me to push myself even harder. I know there's more out there and I'll push myself to become a better student, a successful person and reach my full potential." – Pedro Robledo, Cartersville High School, Class of 2017

"To be part of an organization that works to make a difference in the lives and education of young people in our community is very gratifying." –Alton M. Wright, REACH Community Champion

"I was concerned about having to take out student loans to cover the difference between HOPE, Pell and local scholarships and the cost of attending a large university. REACH gives me the opportunity to immediately attend a 4-year college after high school and takes the financial worry away." –Emely Pajarito, Cartersville High School, Class of 2017

"The best part about being a REACH Georgia Champion is the realization that you are helping a young woman or man reach their full potential when it may have been more difficult otherwise. It is truly an honor to help these young people and in turn help our society in the future." – Richard Kyle Kornegay, REACH Community Champion
Governor Signs GSFC-Related Bills
The 2017 General Assembly concluded its 40-day legislative session in the early morning hours of Friday, March 31.
Sine Die 2016.JPG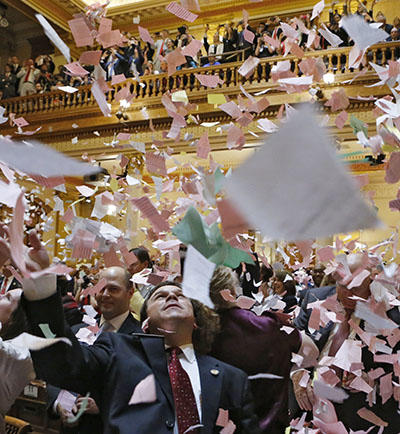 Governor Nathan Deal recently signed legislation that impacts some of the financial aid programs and services GSFC administers to help increase access to higher education.
HB 44 - the record $25 billion state budget for the upcoming fiscal year includes increases for HOPE and Zell Miller Scholarships (public and private), Move On When Ready (MOWR), Tuition Equalization Grants (TEG), Georgia National Guard Service Cancelable Loans and a two percent pay raise for teachers and state employees. The FY 2018 Budget also includes $430,000 for GSFC to develop a new centralized postsecondary HOPE GPA calculation system for HOPE programs.
SB 186 – allows students who earn a high school diploma through certain dual credit coursework (Senate Bill 2, 2015 legislative session) to be eligible for HOPE Grant funding towards 30 hours of associate's degree level coursework.
SB 211 – includes language clarifying that Move On When Ready students must be eligible for equal consideration as valedictorian or salutatorian designations.
2017-2018 Award Amounts and Updated Program Regulations Now Available
Program Regulations and Award Charts have been updated for FY 2018 and are now available.
For more information, view: