September 2021 Quarterly Newsletter
GAfutures, Pathways2GSFA Re-launch Websites
In conjunction with its fifth anniversary, GAfutures.org launched a new-and-improved website, along with Pathways2GSFA.org.
On July 26, the GAfutures.org website debuted many new features and enhancements. The website presents a more mobile-friendly, functional style and boasts improved college and scholarship search features, including the ability to save searches. The website also integrates with the newly re-launched Pathways2GSFA website, using single sign-on and eliminating the need for two different accounts.
Pathways2GSFA's website re-launch introduced features that better support student borrowers. The website showcases an all-new mobile-friendly style to support the majority-mobile user base, and the re-launch also included implementation of electronic signature for documents and secure document upload features.
Pathways homepage

Fall 2021 State Trainings Underway
After more than a year and a half of virtual trainings, GSFC is planning this year's fall training sessions to be in person.
GSFC is planning to offer three training sessions in South Georgia, Middle Georgia and the Atlanta area in November for eligible Georgia high schools.
For eligible postsecondary institutions, GSFC is planning three training sessions in October. One session for each sector: eligible private institutions, Technical College System of Georgia institutions and University System of Georgia institutions.
Dates, times and registration for these sessions will be released very soon after all the details are confirmed.
If you have suggestions for training topics, please email Pennie Strong, Vice President, Program Administration at [email protected].
Georgia's Path2College 529 Plan Celebrates 250,000 Accounts
Over the last 12 months, the plan saw a 41.5 percent increase in contributions, as well as a nine percent increase in new accounts opened.
Path2College (P2C), Georgia's official 529 Plan, reached a remarkable milestone in July by opening their 250,000th account. With more than $4.4 billion saved through Path2College and $1.3 billion already being disbursed for education-related expenses, P2C continues to break program records as Georgians embrace financial literacy and investment in education.
Read more about this milestone on the P2C website: https://www.path2college529.com/buzz/?id=1972.
Governor and First Lady Host 2021 Valedictorian Receptions
In June, hundreds of valedictorians from across Georgia were honored at this year's reception at Liberty Plaza.
Grad Capital Photo-L.jpg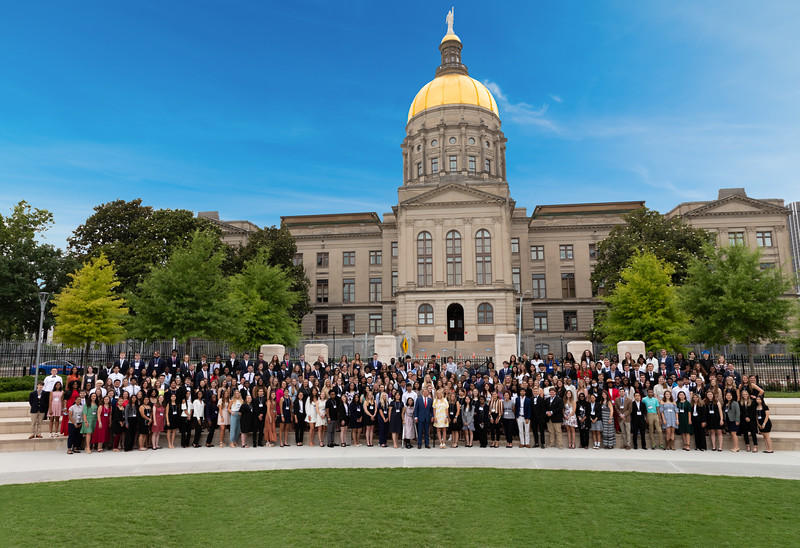 Co-sponsored by the Governor's Office and GSFC, Governor Brian Kemp and First Lady Marty Kemp hosted their second Valedictorian Reception to celebrate Georgia's valedictorians and their families.
First hosted by the late Governor Zell Miller, this annual tradition has recognized the academic achievements of hard-working students throughout Georgia for nearly three decades. Held for the first time at Liberty Plaza, this year's event was a major success as students, families and distinguished guests convened to celebrate Georgia's top graduates.
Among the outstanding students that received declaration as their high school's valedictorian, we are proud to announce that four REACH (Realizing Educational Achievement Can Happen) scholars were also named a valedictorian. Going into its tenth year as Georgia's only need-based college financial assistance program, REACH has transformed the lives of thousands of students preparing for postsecondary education. REACH graduates who were also valedictorians include Makayla Johnson (Arabia Mountain High School), India Ogletree (Taylor County High School), Lauryn Carter (Americus Sumter High School) and Megan Rist (McIntosh County Academy).
Upcoming Outreach Events
GSFC's Outreach Team will host several insightful webinars on a variety of topics. Visit gsfc.eventbrite.com to register an upcoming webinar.
Outreach Webinar Graphic fy2022-01.png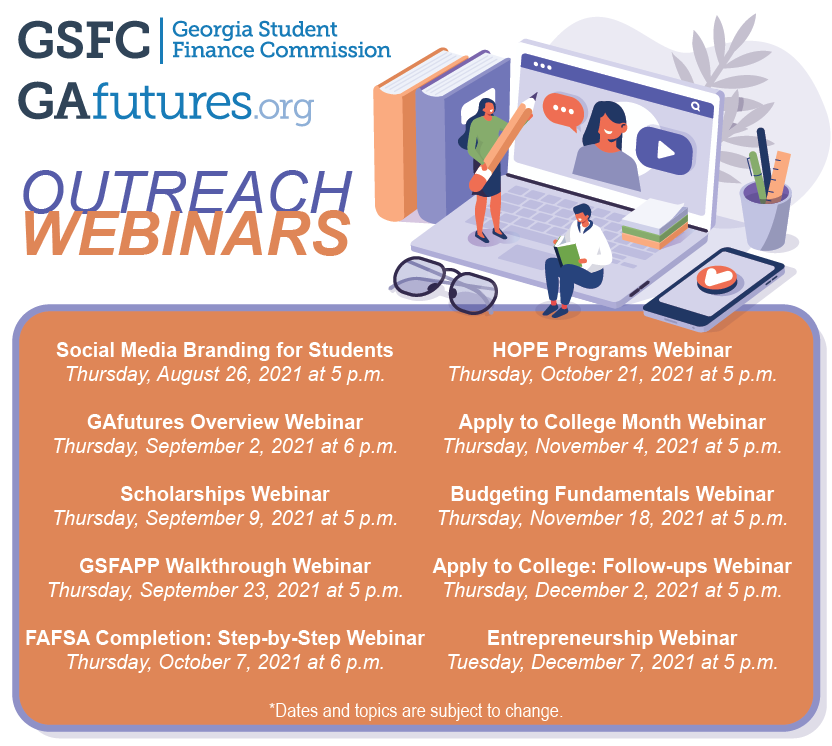 If you'd like to schedule an event, such as a FAFSA completion event, use our Event Request Form.
Save the Date 2021: Apply to College Campaign
This year's Georgia Apply to College Campaign will take place from October 25 - November 30. Additional communication will be sent via email; please ensure that we have the most up-to-date contact information for your institution.
Resources
Find a GSFC Financial Aid Event
Dear Colleague Letters & Updates