February 2018 Quarterly Newsletter
Celebrating Recipients of Georgia's Financial Aid Programs
February is Financial Aid Awareness Month! From high school to college and beyond, GSFC administers almost 20 programs to help students across the state pay for their postsecondary education.
Students who benefit from the financial aid programs GSFC administers come from a multitude of backgrounds and life experiences. What they do have in common is a boundless appreciation for the many opportunities for financial aid that Georgia provides.
Learn about just a few recent Award Recipients and how their particular program award made a difference for them, their families and their futures.
 

Miguel Rarimez - 320 by 302_0_0.jpg

Miguel Ramirez - Unexpected family events forced Miguel Ramirez to drop out of high school. He eventually returned, earned the HOPE Scholarship and graduated from college with honors.

 

Jamie Grady 302 by 320_1.jpg

Jamie Grady - Jamie Grady has turned a youthful passion for beauty into a national honor in esthetics and a potential career in cosmetic chemistry.

 

Keira Stacks 302 by 320_1.jpg

Keira Stacks - Part of an international research project, HOPE Scholarship recipient Keira Stacks uncovered a new bacteriophage, a virus that infects bacteria.

 

Joshua Cherian 302 by 320_0_0.jpg

Josh Cherian - A Rubik's Cube enthusiast, Joshua Cherian used Dual Enrollment to start his postsecondary education towards becoming an aerospace engineer.

Do you know someone who has benefitted from one (or more) of Georgia's state financial aid programs? GSFC is always looking for great stories to share. Complete the form and send it to [email protected].
State Program Updates and Reminders
Revisions to some State Program Regulations were recently approved by GSFC's Board. In addition, Postsecondary Institution Compliance Reviews will now include an assessment of late invoices requested. And, don't forget, now's the time for high schools to submit preliminary transcripts.
State Program Updates
2017-2018 HOPE Scholarship (Public & Private) and Zell Miller Scholarship Program Regulations
Sections 105.5, 205.5 and 4005.5 First-Tier Academic Eligibility Requirements have been revised to include the State/District Administration of the SAT or ACT test in addition to the National Administration.
2017-2018 Dual Enrollment Program Regulations and HOPE Grant Program Regulations
Where referenced Alternative Graduation Option or Senate Bill 2 (SB2) has been renamed High School Postsecondary Graduation Opportunity.
2017-2018 REACH Scholarship Program Regulations
Section 5204.5 Participating School System's Financial Commitment has been revised to implement a four-year cycle utilizing the 2016 Georgia Department of Community Affairs (DCA) Job Tax Credit designation to determine each Participating School System's Tier. The 2016 designation will be utilized through Fiscal Year 2021.
Compliance Reviews
Beginning with the Postsecondary Institution Compliance Reviews conducted in 2018, the Compliance Review process will include an assessment of the number of late invoices requested by the institutions for the following programs: HOPE and Zell Miller Scholarships, HOPE and Zell Miller Grants, Tuition Equalization Grant and Dual Enrollment.
This information will be included in the "Management Notes" section of the institution's Final Report which will summarize the number and amount of late invoices by program and term for the fiscal year from which the samples are determined. The "Management Notes" are to assist institutions to better manage invoices in a timely manner.
Thank you for your institution's participation in the State Scholarship and Grant Programs. If you have any questions, please do not hesitate to contact Lisa Newham, Senior Manager Compliance, at 770.724.9136
Reminder: It's Time to Submit Preliminary Transcripts
Public and private Eligible High Schools are strongly encouraged to upload preliminary transcript data in February and final transcript data in September for 9th – 12th grades.
As stated in DCL 2018-01 HS, public and private Eligible High Schools must upload the annual underclass (9th, 10th and 11th grade) transcript data to GSFC for the previous Academic Year by September 30. Failure to upload and report underclass transcript data can affect participation eligibility and access to online Dual Enrollment student applications for the following year.
My GAfutures HOPE GPA zm_0.jpg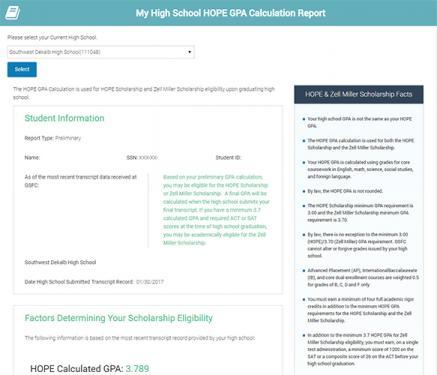 If complete transcript data (including the student's Social Security number) is successfully uploaded for 9th graders, beginning their 10th grade year, they should be able to view their HOPE GPA through their My GAfutures account.
The My High School HOPE GPA page provides students with not only their HOPE GPA, it also allows students to view completed academic rigor courses and their highest ACT/SAT score on file with GSFC. These are other factors that determine a student's HOPE/Zell Miller Scholarship eligibility.
A student's high school HOPE GPA is determined from the most recently uploaded transcript provided by their high school. Encourage your students to check their HOPE GPA regularly to ensure they are on track to be eligible for HOPE funds.
2018 Legislative Session Begins
The Georgia General Assembly kicked off the 2018 legislative session Monday, January 8. As in the past, several of GSFC's programs could be impacted by this year's proceedings.
Gold Dome_0.jpg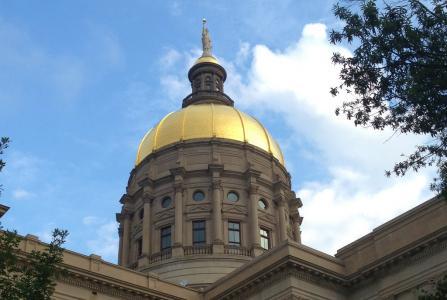 Governor Nathan Deal delivered his eighth and final State of the State Address to a special joint session of the General Assembly on Thursday, January 11. In addition, the Governor's Office of Planning and Budget released Governor Deal's budget recommendations for the amended current and upcoming fiscal years. Included were funds to support the continued growth of Dual Enrollment, one of the programs GSFC administers.
Here are some of the Governor's other recommendations for GSFC's financial aid programs:
$10,746,533 in state funds for growth in the Dual Enrollment program
$8,186,011 in additional lottery funds for growth in the HOPE Scholarships program (public and private)
$68,093,562 in additional lottery funds to provide a 3% increase in the award amount for HOPE Scholarships and Grants and to meet projected need
$34,379,357 in state funds for growth in the Dual Enrollment program
1,838,000 in state funds for the REACH program to provide additional scholarships and expand into new school systems
$750,000 in state funds for the Georgia National Guard service-cancelable loan program to provide additional awards and expand program eligibility to include graduate degree programs
As a reminder, these are only the Governor's recommendations. The General Assembly will use them as a starting point to develop and pass the state budget.
Stay tuned for the May GSFC Quarterly Newsletter to find out how the session concluded and any effects on the state financial aid programs GSFC administers.