June 2021 Quarterly Newsletter
REACH Welcomes New Scholars, Celebrates Graduating Class
REACH celebrates new scholars who began in the 2020-21 academic year, as well as scholars set to graduate this summer.
Laura Vinson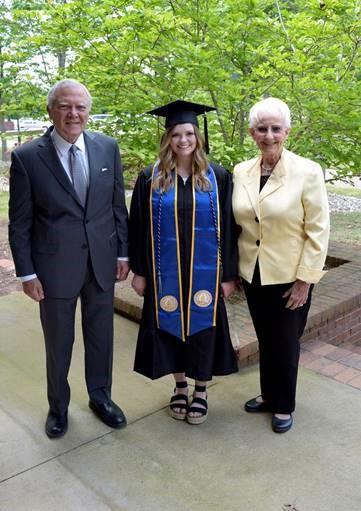 Launched with 18 scholars in 2012, the REACH Georgia Scholarship Program provides academic and financial support to students pursuing a postsecondary credential throughout high school and college. In just nine years, the program has grown to support over 3,000 students in the current academic year.

During the 2020-2021 academic year, REACH selected more than 650 new 8th grade scholars from more than 150 school districts. REACH anticipates graduating over 300 REACH high school seniors by the end of academic year 2021 from approximately 80 school districts.

These Senior Scholars have persisted throughout the pandemic over the last 16 months and are to be congratulated for their accomplishments. As of the last check point, the Class of 2021 continues the tradition of a 70%+ HOPE-eligibility rate and is currently on track to complete their secondary career with an average 3.33 GPA, also in line with the previous classes. REACH also celebrates the first class of REACH Scholars as they advance toward postsecondary graduation with a four-year degree.
Pictured here is one of REACH's first scholars, Laura Vinson, joined by former Governor Nathan Deal and former First Lady Sandra Deal. Laura enrolled as an 8th grader in 2012 and most recently graduated from the University of North Georgia with a B.S. in Sociology and an A.S. in Psychology.
Georgia General Assembly Concludes the 2021 Legislative Session
Georgia lawmakers officially adjourned the first session of the 156th General Assembly on Wednesday, March 31, 2021, bringing an end to the annual legislative session.
With the bang of a gavel, members of the Georgia House and Senate declared "Sine Die" well into the night on Wednesday, March 31, 2021. Meaning "without day" in Latin, Sine Die represents the last day of the annual legislative session and typically brings hundreds of guests, visitors and dignitaries to the Capitol as legislators commemorate the work accomplished throughout the session. With COVID-19 safety guidelines put in place by each chamber to prioritize the safety of those working within the Capitol, traditional Sine Die festivities were limited this year as lawmakers concluded Day 40 of the annual legislative session. However, spirits were high as individuals celebrated the end of a productive session.
Throughout January, February and March, legislators addressed a wide variety of topics relevant to the ten-plus million Georgians that call the Peach State home. Recognizing the importance of prioritizing access to higher education, multiple legislative initiatives concerning Georgia's postsecondary institutions and their students were sent to the Governor for his final approval by the General Assembly.
Of note to financial aid operations in Georgia, lawmakers passed House Bill (HB) 606 and Senate Bill (SB) 187. Both related to Georgia's nationally recognized HOPE Scholarship Program, HB 606 adds the Georgia Independent School Association (GISA) to the list of K-12 accrediting agencies for HOPE Scholarship eligibility while SB 187 grants the GSFC Board of Commissioners the authority to extend the HOPE eligibility timeframe for students with disabilities, as defined by the Americans with Disabilities Act.
To examine the impact of university fees on students enrolled at higher education institutions throughout Georgia, members of the Senate passed Senate Resolution (SR) 300, which creates the Senate University Fees Study Committee. This newly created body will be made up of five members, including a representative from the University System of Georgia (USG) and the Georgia Student Finance Commission (GSFC). Once a meeting schedule is finalized, members of the committee will begin examining various university fee policies to determine the overall financial impact on student populations throughout Georgia.
Passed every year by lawmakers in accordance with Georgia Code, the General Assembly gave final approval to the 2022 Fiscal Year (FY22) Budget. Representing nearly $28 billion in state funds, the FY22 Budget sets the state's spending plan from July 1, 2021 – June 30, 2022. With a record monetary allocation of over $1 billion for Georgia's financial aid programs, the hundreds of thousands of students who depend on GSFC-administered scholarship and grant programs will continue to have financial support in their academic pursuits.
While the 2021 legislative session has been checked off the list, higher education policy will continue to remain a consistent topic of conversation throughout the remaining calendar year. As GSFC works diligently to expand access to education beyond high school for Georgia students, we will continue to monitor dialogue at the local, state and federal level of government.
2021-2022 Board Meeting Schedule
| | |
| --- | --- |
| Friday, August 27, 2021 | GSFC Office - Tucker |
| Friday, November 5, 2021  | GSFC Office - Tucker |
| Friday, February 4, 2022  | GSFC Office - Tucker |
| Thursday, May 5 - Friday, May 6, 2022 | TBD |


Resources
Find a GSFC Financial Aid Event
Dear Colleague Letters & Updates
Do you have any suggestions for future newsletter articles or questions about this issue? Email us at [email protected].