November 2017 Quarterly Newsletter
GSFC Welcomes One of its Own as Interim President
Governor Nathan Deal recently nominated Caylee Noggle as Interim President of the Georgia Student Finance Commission. Noggle brings more than a decade of state government experience to her new role.
Caylee Noggle is a familiar face to many of GSFC's customers and partners. She began her career with GSFC in 2005 serving in various roles, most recently as the agency's Chief Operating and Chief Financial Officer. Upon her confirmation by GSFC's Board of Commissioners, Caylee stepped in as Interim President effective October 1, 2017. She replaced Shawn Ryan, who was appointed Commissioner of the Department of Administrative Services (DOAS).
Caylee Noggle.png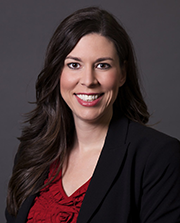 "We are very excited to have Mrs. Caylee Noggle serve as Interim President of GSFC. Her previous experience in higher education and student financial aid will be a tremendous benefit to this agency and Georgia students," said Dr. Sara Beck Hawthorne, Chair of GSFC's Board of Commissioners.
Noggle has a passion for serving the students of Georgia and wants to help ensure they have the resources needed to continue their education beyond high school. "The students are the reason we as an agency exist. They are our number one priority. Through our partnerships with the K-12 and postsecondary communities, as well as other state education agencies, our focus is to create a more educated population which is as good for the individual as it is for the whole," stated Noggle.
During her tenure, Interim President Noggle intends to build on GSFC's more than 50 years of successes and increase efforts to educate students and their families on the financial aid process and how to confidently plan, apply and pay for college.
Students Become REACH Scholars during Signing Events
In October, Georgia's REACH Program welcomed a new class of Scholars during this year's REACH Signing events which were held across the state.
IMG_5614-X2_0.jpg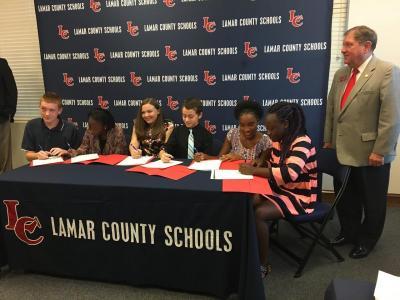 REACH Signing ceremonies began October 2 with events taking place from northern Bartow County to southern Wayne County and as far east as Franklin County to as far west as Chattahoochee County.
"REACH Signing Week is a great way for us to celebrate the students that are signing REACH contracts and committing themselves to bettering their educational success," said Governor Nathan Deal. "These students are our great state's future, and by seeing the dedication and determination they have for their education shows just how bright Georgia's future is."
More than 500 students became REACH Georgia Scholars this year, raising the total number of students in the program to nearly 1,200 in 103 school systems across the state.
See pictures from these events on the REACH Georgia website.
In Their Own Words: Quotes from 2017 REACH Signing Events
"This is a very happy, emotional day for everyone. As an educator, I couldn't be more proud of these students for pushing themselves to work harder, achieve their potential, and reach their goals for a successful future." - Jeff Rose, Fulton County Schools Superintendent

"We are very proud of the four young ladies who have been chosen to receive these scholarships, and we look forward to providing this scholarship to other students each year following." - Virgil Cole, Glynn County Schools superintendent

"We want you to know that your dreams are important. All of us have jobs to do so that you can pursue your dreams. We love to see good kids do well." - Robert "Buddy" Costley, Butts County School Superintendent

"This program can change the lives of these students." - Bronwyn Ragan-Martin, Early County Schools Superintendent

"REACH is a beautiful combination of both private and public sectors to promote and increase access to education beyond high schools for Georgians." - Reginald Griffin, Muscogee County School District REACH Scholarship coordinator

"REACH not only helps our students graduate from high school it gives them the tools to complete college and return to our community and into our workforce." - Torri Jackson, Liberty County School System student services support specialist and district REACH coordinator
State Program Updates
Eligible STEM courses to receive HOPE Scholarship GPA boost, popular financial aid program gets a new name and new industries are added to the HOPE Career Grant.
Weighted STEM Courses for Postsecondary HOPE GPAs
Beginning this fall term, students will receive a boost to their postsecondary HOPE/Zell Miller Scholarship GPA for specific, rigorous STEM courses typically offered during the first two years of college. Each HOPE-eligible college in Georgia will add 0.5 to the postsecondary HOPE GPA calculation in specific, approved STEM courses if the grade is a B, C or D. Eligible courses will be reviewed annually and can be found on GAfutures/STEM Weighted Courses Directory.
MOWR is Now Dual Enrollment
Dual Enrollment Logo - Black with empty background_0_0.png

Effective this fall, Move On When Ready (MOWR) has been renamed Dual Enrollment. The eligibility requirements, award amounts, application process and other aspects of the program remain the same. The MOWR application will be referred to as the Dual Enrollment funding application. The new email address for the program is [email protected].
New Industries Added to HOPE Career Grant
Five new strategic industry programs have been added to the HOPE Career Grant bringing the total number of programs to 17. The newly added programs are effective Spring term 2018 and include Construction, Aviation, Electrical Line Work, Logistics and Automotive Technology. The revised FY 2018 Approved Programs list can be found on GAfutures.org in the HOPE and Zell Miller Grants sections.
GAfutures Update: New Admin Menu
A new format for the My GAfutures Admin menu will be released this month in preparation for CHECS.
mega2_0.png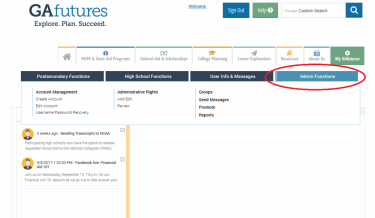 The initiative to create the College HOPE Eligibility Calculation Service (CHECS) is well underway. The first set of postsecondary HOPE/Zell Miller Scholarship and Grant GPA calculations are scheduled to be done at the end of Fall term 2018. The CHECS module will be located within GAfutures and a new My GAfutures menu for administrative functions will be released this month to facilitate the preparation for future CHECS access.
The current Admin Center menu on GAfutures will be replaced with a mega menu that will be located at the top of the page once users are signed in. The new menu does not affect current administrative functionalities or assigned administrative rights.
For more detailed information on the development of CHECS, refer to DCL 2018-05: CHECS Update .