August 2018 Quarterly Newsletter
Celebrating 25 years of HOPE
Over the past 25 years, HOPE has helped increase educational opportunities and student achievement across Georgia and that's something to celebrate.
September 1 marks the 25th anniversay of the first HOPE Scholarship disbursements and the Georgia Student Finance Commission celebrated the event in June during a ceremony at the Georgia State Capitol. GSFC Interim President Caylee Noggle joined Governor Nathan Deal, Georgia Lottery President and CEO Gretchen Corbin, Georgia Department of Early Care and Learning Commissioner Amy Jacobs, elected officials and other special guests to commemorate the occasion.
2018 Annual Meeting HOPE Logo_3.png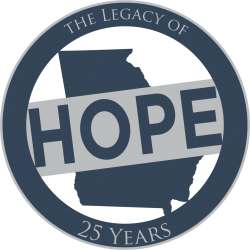 "We are very proud that Georgia's HOPE program remains one of the country's largest and most generous scholarship programs," Noggle said. "Supported by the Georgia Lottery Corporation, HOPE has been a critical component of Georgia's workforce development efforts by providing students with over $10 billion dollars in awards."
Launched by then-Gov. Zell Miller in 1993, the lottery has contributed more than $19.5 billion to the state for education. More than 1.8 million students have received lottery-funded HOPE scholarships and grants. To put that into perspective, that represents the equivalent of nearly one in four Georgians aged 18 or older.
"Behind every one of the millions of HOPE and Pre-K beneficiaries is a life made better through greater opportunity," said Gov. Deal, "a mind made stronger through sound education and a lifetime of dividends that result from our continued investment in Georgia's children."
The ceremony also featured remarks from recipients of the HOPE Program. Lindsay McMichael participated in Georgia's Pre-K Program as a 4-year old in Columbus. She then earned the Zell Miller Scholarship and utilized it to attend the University of Georgia. Josefina Bustos is using the HOPE Career Grant at Gwinnett Technical College to pursue a nursing degree. Both touted the benefits and positive impact of being beneficiaries of these lottery-supported programs.
"As we celebrate our success over the past 25 years," Noggle added, "we also look forward with confidence knowing that HOPE will be available for future generations thanks to the leadership of Gov. Deal, the support of the General Assembly, and a strong footing from the Georgia Lottery Corp."
FY 2019 State Program Updates, Reminders and Resources
FY 2019 is well underway and students are returning to high school and college campuses all over Georgia. Here are a few reminders, updates and resources for counselors and financial aid staff to get the school year started.
CHECS Update - Preparing to Go Live
Effective the end of Fall term 2018, students will be able to check their academic eligibility for the HOPE or Zell Miller Scholarship or Grant through their GAfutures account. The 83 HOPE Eligible Postsecondary Institutions will be providing student course information to GSFC through the new College HOPE Eligibility Calculation Service (CHECS) for the academic eligibility calculations to be performed. The postsecondary institutions are required to complete specific testing requirements before the go live stage. The preparation for the required implementation at the end of Fall term 2018 is well underway.
Submission of test Historical Snapshot files: Over half of participating eligible postsecondary institutions have submitted test Historical Snapshot (HS) files. Production HS files are due September 17, so it is critical that institutions successfully submit test files in August (ASAP) to ensure readiness to go live. The HS file contains all of the data that CHECS needs to take-over GPA/Checkpoint calculations for students.
Submission of test Transcript Data files: GSFC has only received test Transcript Data (TD) from 13 colleges (mostly the Pilot I institutions). Production files will be due at the end of the fall term (varies by institution). As stated above, Winter/Spring HOPE disbursements will be disabled until the college successfully submits fall TD files.
It is critical that all 83 HOPE-eligible colleges submit the test HS and TD files so they have the opportunity to verify the GPAs and Checkpoints that CHECS is calculating. Institutions cannot skip the testing and go straight to production/go live.
Once each college successfully validates the results of their test files, the college President will be asked to sign-off which essentially confirms the institution's readiness.
FY 2019 State Program Regulations and Award Charts
HOPE Career Grant FY 2019 Programs of Study
The list of approved programs of study for students who are eligible for, and receiving, HOPE or Zell Miller Grant funding, who may also be eligible for funding from the HOPE Career Grant is now available.
STEM Weighted Courses Directory
Find approved STEM weighted courses by eligible postsecondary institution and the effective beginning and ending terms for each course. An Excel version of the directory is on SURFER in the User Information section.
Dear Colleague Letters & School Updates
Remember, all FY 2019 DCL and School Update communications can be found on GSFC.org.
Governor and First Lady Host 2018 Valedictorians
In May, hundreds of valedictorians from across Georgia were honored at this year's receptions at the Governor's Mansion.
Val Reception 2018 - Deal w 1 comfortable student_0.jpg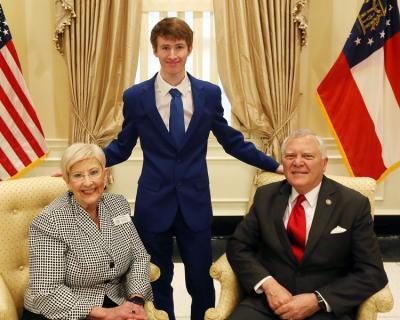 Cosponsored by the Governor's Office and the Georgia Student Finance Commission (GSFC), Governor Nathan Deal and First Lady Sandra Deal hosted their final Valedictorian Reception to celebrate Georgia's valedictorians and their families, a tradition started by Governor Zell Miller 25 years ago.
"Even though you may have only been a twinkle in your parents' eye when former Governor Zell Miller had the novel idea to create a lottery system to fund HOPE and Georgia Pre-K, you are now a part of its legacy," said Caylee Noggle, Interim President of the Georgia Student Finance Commission. The majority of those valedictorians will receive the Zell Miller Scholarship as they pursue their college career in Georgia.
The Governor and First Lady also spoke to those in attendance, congratulating the valedictorians and their families and encouraging the students to continue to work hard, be humble and remember where they came from as they are the future of, not only Georgia, but the nation.
Val Reception 2018 - Deal w family_0.jpg
In addition to the 25th anniversary of HOPE, this year's receptions marked the last time the Deals would host the event. Over the past eight years, they graciously opened the mansion to almost 5,000 valedictorians, greeting and taking pictures with each and every student and their families.
Each year, to accommodate the large number of students being recognized, the Valedictorian Reception is divided into three sessions over the course of two days. Valedictorians from metro-Atlanta attended the reception on Friday evening, valedictorians from north Georgia attended on Saturday morning and valedictorians from south Georgia attended on Saturday afternoon.