September 2019 Quarterly Newsletter
Governor and First Lady Host 2019 Valedictorians
In June, hundreds of valedictorians from across Georgia were honored at this year's receptions at the Governor's Mansion.
Cosponsored by the Governor's Office and the Georgia Student Finance Commission (GSFC), Governor Brian Kemp and First Lady Marty Kemp hosted their first Valedictorian Reception to celebrate Georgia's valedictorians and their families.  The majority of those valedictorians will be receiving the Zell Miller Scholarship as they pursue their college career in Georgia. 
19060708_valedictorianday-162-xl.jpg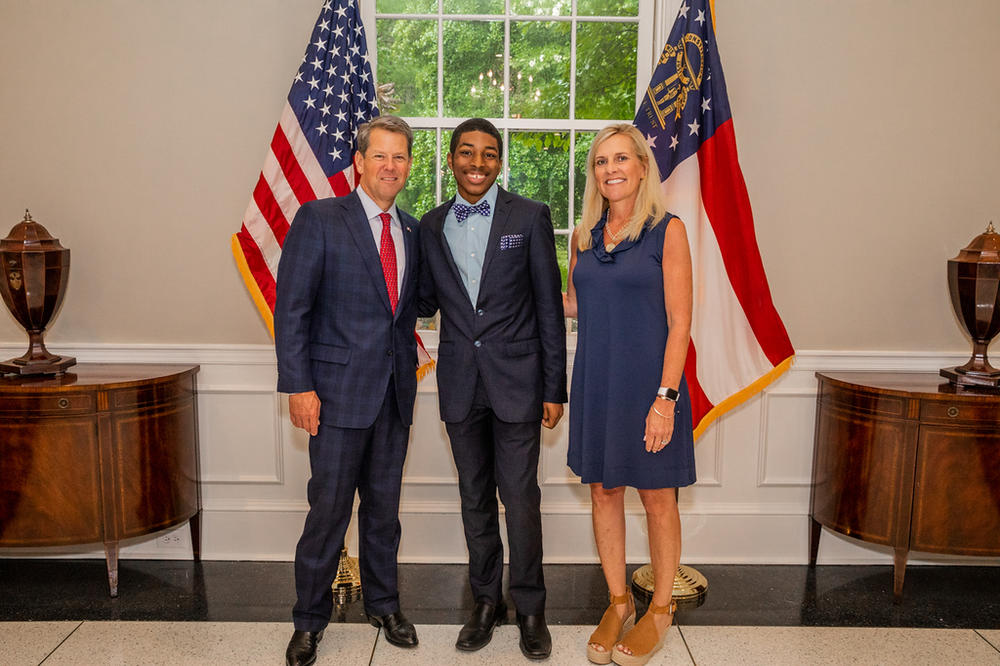 The Governor and First Lady continued the tradition started by Governor Zell Miller of opening the mansion and were in the mansion ballroom to greet and take pictures with each and every student and their families.  The valedictorian pictured here is REACH scholar Deion Kelly from Towers high school. REACH scholars are selected in the 8th grade, are mentored through the 8th-12th grades and commit to a rigorous set of academic guidelines to maintain their scholarship eligibility. 
Each year, to accommodate a large number of students being recognized, the Valedictorian Reception is divided into three sessions over the course of two days. Valedictorians from metro-Atlanta attended the reception on Friday evening, valedictorians from north Georgia attended on Saturday morning and valedictorians from south Georgia attended on Saturday afternoon. GSFC is honored to continue this tradition and we are proud of the all the students' accomplishments.
Registration for State Trainings is now open
Throughout the month of October, GSFC professionals will host state-wide training for counselors and financial aid professionals.
2019 GSFC State Trainings will be held in October and registration is now open.  GSFC will host trainings for high school and postsecondary professionals, with each training beginning at 8:30am and concluding at 3:30pm.
For High School Professionals 
October 9: Mercer University, Macon
October 15: Georgia Gwinnett College, Lawrenceville
High school Session Topics Include:
HOPE Scholarship Eligibility from High School
STARS Transcript Exchange
FAFSA Completion
New Online Dual Enrollment Funding Application Project
For Postsecondary Professionals:
October 17: Georgia Gwinnett College, Lawrenceville
October 21: Mercer University, Macon
Postsecondary Session Topics Include:
Program Facts
CHECS
Program Invoicing and Reconciliation
New Online Dual Enrollment Funding Application Project
FY 2020 State Program Updates, Reminders & Resources
FY 2020 is well underway as students have returned to high school and college campuses all over Georgia. Here are a few reminders, updates and resources for counselors and financial aid staff as you are navigating through the fall term.
FY 2020 State Program Regulations and Award Charts
HOPE Career Grant FY 2020 Programs of Study
The list of approved programs of study for students who are eligible for, and receiving, HOPE or Zell Miller Grant funding, who may also be eligible for funding from the HOPE Career Grant.
STEM Weighted Courses Directory
Find approved courses by the eligible institutions and the effective beginning and ending terms for each course.
Dear Colleague Letters & School Updates
Remember, you can find all FY 2020 DCL and School Update communications on GSFC.org.
Training Opportunities (New Online training available!)
Remember, GSFC's outreach staff is available year-round to conduct FREE training and workshops for industry conferences, train-the-trainer events, and school-requested events and one-on-ones.
NEW this year are online training via webinars!  Events are already on the calendar of topics; however, you can request an individual session.
Topics include:
State financial aid programs (HOPE, Dual Enrollment, etc.)
SURFER/STARS
Transcript Exchange
FAFSA Completion
GAfutures.org Overview
Contact your outreach representative to schedule your training, or contact our offices:
Phone: 770.724.9000    Toll-Free: 800.505.GSFC
K -12 email: [email protected]
Postsecondary email: [email protected]
Wednesdays – Webinar Series
Join the GSFC Outreach team for a new series of 30-min. webinars on FAFSA completion, state financial aid programs (HOPE, etc), and GAfutures account overview.   
The Outreach team will continue to host a series throughout the 2019 – 2020 academic year.  Click here to register! 
BE SOCIAL!
Did you know that GSFC uses many social platforms to inform students, parents and professionals of important financial aid information, and a few fun facts as well? 
Join us!  
Resources
Do you have any suggestions for future newsletter articles or questions about this issue? Email us at [email protected].