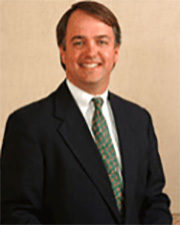 F. Faison Middleton is a partner at Watson Spence LLP. He is a member of the State Bar of Georgia, the Dougherty Circuit Bar Association, and the Defense Research Institute. He is active in the product liability section of the Georgia Bar, has chaired numerous committees for the Atlanta Bar Association, and has served as the regional coordinator for the high school mock trial competition in the Atlanta Region for four years. 
He serves on the board of trustees of Leadership Georgia and is a graduate of the Class of 2007. He is also a graduate of the 2005/2006 class of Leadership Albany, and is president of the non-profit Lily Pad SANE Center, Inc. He is a member of the Dougherty County Rotary Club where he serves on the board as treasurer. Middleton earned a bachelor's degree from Emory University and a law degree from Georgia State University College of Law. He and his wife, Kari, have two sons and live in Albany. 
F. Faison Middleton, IV was appointed to the GSFC Board of Commissioners in March 2010 and reappointed February 2012. His term expires March 15, 2018.