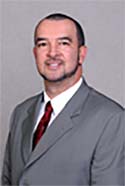 Thomas Eugene Bowen is an attorney and certified public accountant (CPA). He has extensive experience in the area of state and local tax consulting. Bowen is President and Founder of TaxTrust Group LLC, a consulting firm.
Prior to this, Bowen served Price Waterhouse Coopers in various senior capacities and the State of Florida as an auditor. Bowen received his undergraduate degrees from the University of South Florida (BS Accounting) and St. Leo University (BA Computer Information Systems).
He earned his JD from Georgia State University College of Law, and is a member of the State Bar of Georgia. Bowen and his family live in Stone Mountain.
Thomas Eugene Bowen was appointed to the GSFC Board of Commissioners in October 2003. He was reappointed April 2013 and his term expires March 2018.